collective works
Bash Just Wants To Help!
Populate your mental mind-map of possibilities! No matter your wizardry level, bash never ceases to supply a bottomless treasure trove of fresh discoveries for slicing and mashing terminal clutter in new ways.
Distraction Microanthology Volume I
A smorgasboard of distracting micro deep-dives; a network of tantalizingly brief gateways to things you didn't know you needed to know.
Literal Hot Tips: Backcountry Cooking
Backcountry cooking with real flavor, brought to you by Asian Americans
Sketchnoting 101: Visualifying Thoughts
Do you suffer from wall-of-text syndrome? Here are some hot tips for breathing life into informational arrangements.
by daiyi
technomancer & alpine witch bashing computers and sending rocks, making nature journals, sketchnotes, and comic diaries \o/ previously a hitchhiking vagrant dirtbag, recently resettled in california (oakland!) and enjoying the local sun juice. weaknesses include dark chocolate, gentle folks in need of visual assets, and cute stationery. will appreciate any doggo in the vicinity. twitter | website | instagram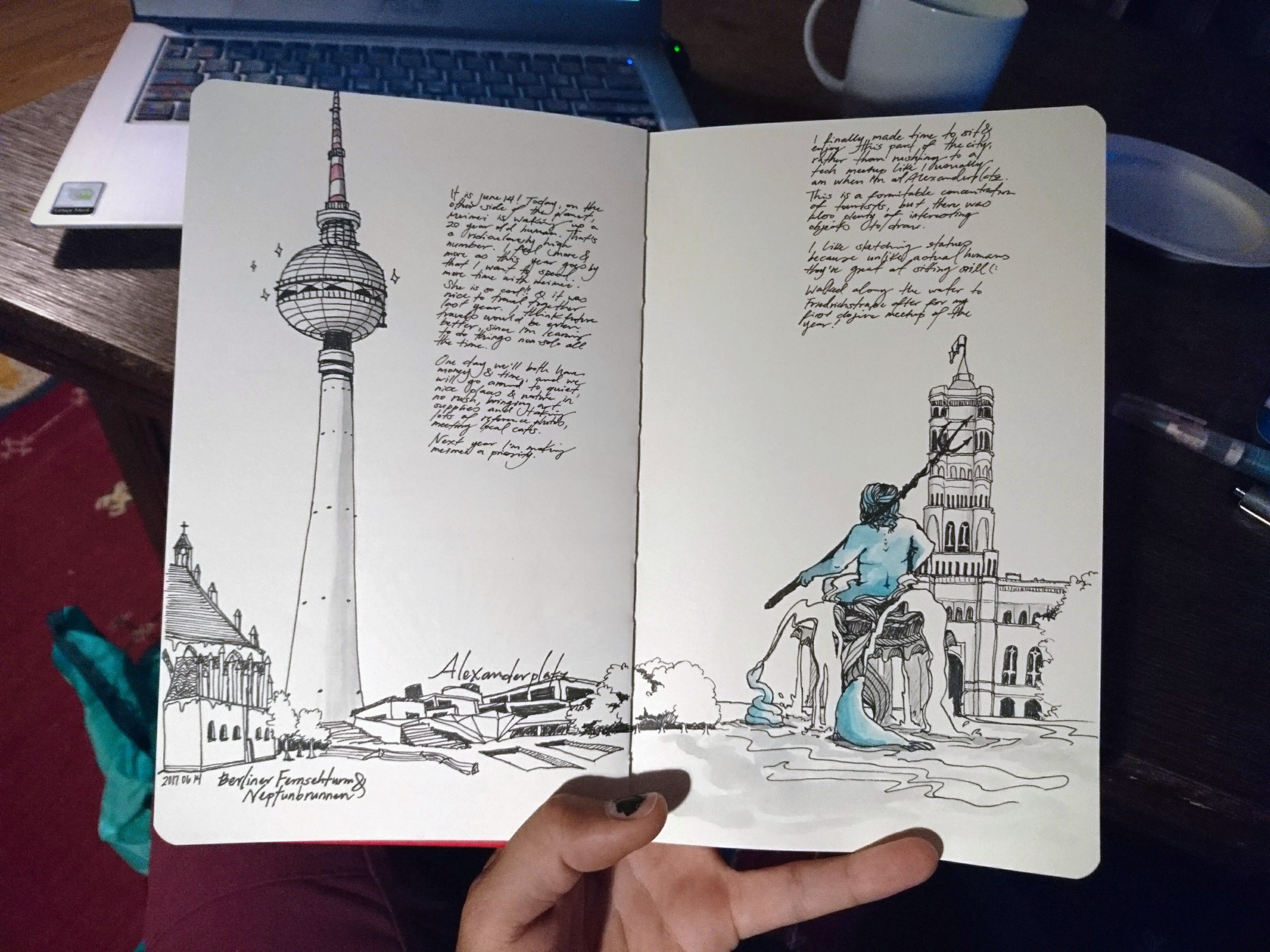 Sketchjournals of Berlin
daiyi and her bicycle live in Berlin for a few seasons as she goes swimming in many lakes, writes a lot of clojure, and wobbles around committing to a future trajectory.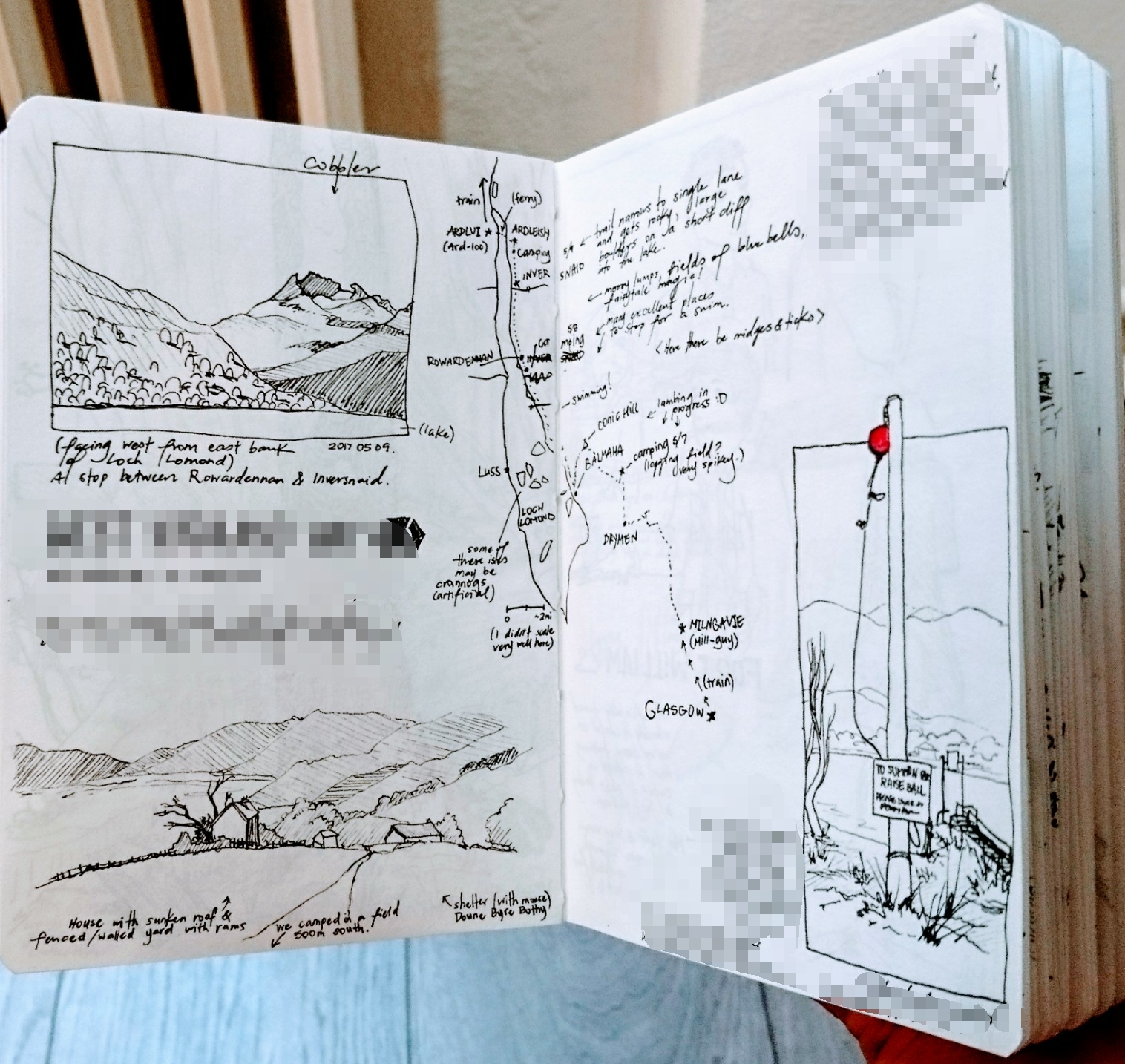 Sketchjournals of Scotland & Ireland
daiyi visits a good friend in Edinburough and learns about veterinary best practices, takes a train through desolate countryside, and walks a portion of the West Highland way in stunningly perfect and exceedingly rare good weather.
Graveyards and Coastlines: Sketchjournal excerpts from Hitchhiking the Balkans
daiyi spent a couple months hitchhiking alone with a 35 litre backpack and a sketchbook through former yogoslavia countries, sleeping by the side of the road, looking for people to climb with, being misidentified as Kazakhstani, lugging a kilo of local farmer's market tomatoes up to backcountry huts that are evidently sprinkled around the mountains and free to stay in.
Squash Gouache
A sample of daiyi's favourite gourds in gouache rendition and tips on how to eat them/recipes + personal taste notes \o/
Climbing Zines the series
daiyi get excited about drawing knots and topos, the zine series \o/ Topics include: weird climber terminology/slang, types & styles of indoor & outdoor climbing, my favourite places to climb and a notes on their geography, how to read climbing topos, climbing knots!!
by rfong
an eldritch wordsmith and computer-whispering gremlin who once covered every kitchen cabinet in pictographic signage after going mad with vinyl cutter power. derives incomparable satisfaction from handmaking A8 notebooks. weaknesses: bread, hilltops, things in need of organization, and cute stationery. website | instagram | prints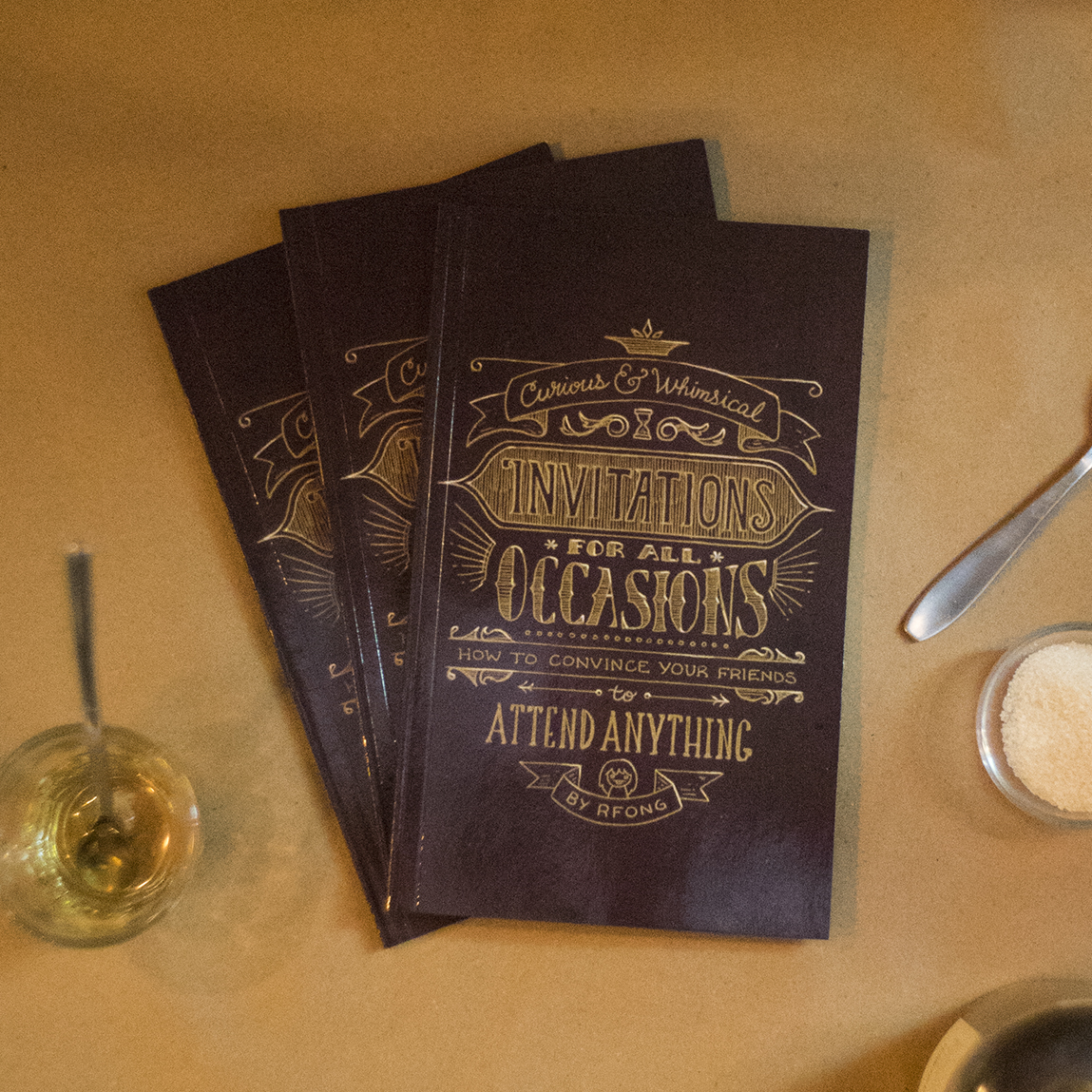 Curious & Whimsical Invitations For All Occasions: How To Convince Your Friends To Attend Anything
My unhealthy dedication to writing unnecessarily over-the-top event invitations was sparked in 2008 by MIT undergrad mailing list culture: a realm of strangely Lovecraftian alt-reality free food announcements, increasingly eschatological themed potlucks and parties, of resigned requests to borrow stud finders braced against the inevitable deluge of stud volunteers. Somehow, I've never managed to break the habit.
Nature Is Calling And I Must Go Poo
Pooing in nature can be anything but natural for a city creature. Here are some hot tips to get your poo etiquette up to speed in no time.

Delayed-Fermentation Bread: for lazy lovers of rustic breads
Eaten fresh ten minutes from the oven, the crust is crisp and golden brown and rounded from the dough's surface tension, the crumb soft and holey. There are hints both of savory-sour from the yeast fermentation and savory-sweet from the sugars released from the carbohydrates and transformed by the Maillard reaction and by caramelization. It is simply bread.